Welcome Note
Do you consider retiring in Bulgaria? Hundreds of people like you are recently contacting us for that reason and a few hundred have already made up their mind, to relocate and spend their remaining life in an extremely beautiful, peaceful, safe and inexpensive country like Bulgaria. Most people will try to give you the usual 'sales talk'. I will simply not, because I do not need to. Besides being very friendly, hospitable and open-hearted, the people of Bulgaria are not yet corrupted by the 'goods' of consumerism. When you buy meat, it is real meat. When you buy bread, it is real bread and when you buy tomatoes, they  taste and smell like tomatoes. In a few words, in Bulgaria you will find the real meaning of what people call 'quality of life'.
I may be more or less your age and came to Bulgaria 15 years ago, leaving behind a promising job with Barclays Bank, as Regional Manager for North and Northwestern London. I never looked back. At present I only travel to London for business meetings and regretfully, I don't see the London I left behind 15 years ago. These days it is just a very depressing place to be.
As we say and unfortunately is a hard fact of life, once you pass 50, time seems to fly. There are though people, who manage to start getting younger after they retire. I know some foreigners who live here in Varna and when you eventually come over on a viewing trip, I will be glad to introduce them to you. The majority are English who moved over five-six years ago.
It is very important that the place you choose for starting afresh, is not in the middle of nowhere and it is not just beautiful and nice only for the summers – a mistake that a lot of Brits have made and now they are blaming Bulgaria for it. When you retire or you are about to retire, you need to be near the urbanized areas, the hospitals, the shops and naturally among other people.
If you want to make your huge life change a success, you need to be in or near a big town or its outskirts, which have and offer everything you can get back home (even HP souse), have all the services and also offer employment opportunities. From my long experience in this business and in this country, I consider the city of Varna and its suburbs as the best, affordable and safest place to live in Europe.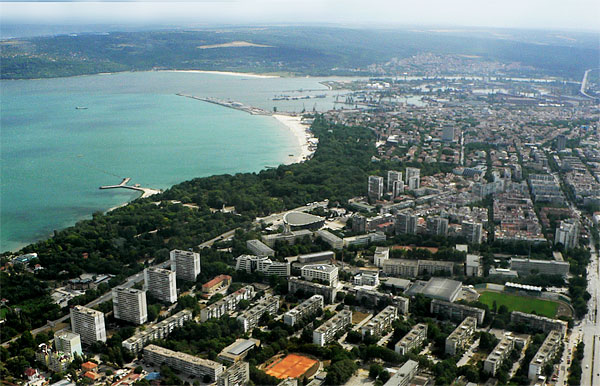 Besides the international airport (there are 75 airlines flying to more than  95 destinations in 36 countries), the city has its sea port, which is one of the most modern ports in the Black Sea area, 3 University Hospitals, hundreds of restaurants and supermarkets and with a cost of living which is the cheapest in the EU.
In 2008, Bulgaria had the lowest price level for goods and services of all 27 EU member states, according to the latest Eurostat data. Bulgaria's consumer prices for goods and services were only 51% of the EU 27 average).

In September 2004, FDI Magazine (a Financial Times publication) proclaimed Varna to be the 'South-Eastern European City of the Future', citing its strategic location, fast-growing economy, rich cultural heritage and higher education.
We are here to assist you step by step into your new life after retirement in Bulgaria. Do not hesitate to contact us and ask for information regarding your personal case. If you are looking for the best retirement place, Retirement Homes Bulgaria can offer you exceptional choices.
Looking forward to welcoming you in Varna,
Christopher Violaris
Managing Director and C.E.O.
Eurolink Investment Group